We carry the finest quality -World Famous- Tupelo Honey and and other regional gourmet honey varieties. We also offer other wonderful honey/bee related products that are very unique and unmatched in quality. We are always updating our selection and adding new products, so please check back often.
Our family started running the local Catholic Radio station in Tallahassee, FL around 3 years ago. Due to the high costs involved in running a radio station, it barely stayed on the air each month, but somehow God always provided. About a year ago however, the station's finances reached a critical level. In order to keep it on the air we decided to start this honey venture to help raise funds and attempt to fill in the gap on our monthly radio budget shortfall.
Proceeds from online web sales of honey and related items go directly to fund our diocesan wide local Catholic Radio outreach, WCVC1330AM Tallahassee and our sister station in Pensacola, WDWR1230AM - To learn more visit us online at: www.DivineWordRadio.com .
Thanks again for visiting us online, we think you'll fall in love with our fine selection of honey and related goods...and remember, every online website purchase goes directly to help spread the Catholic Faith over the airwaves.
God bless you, and don't forget...Bee Holy!
The Bond Family
www.BeeHolyHoney.com
Peter, Cathy, Gabriel (15), Eve (13), Joseph (6), Patrick (4) , Blaise (now 2) & Baby Anastasia (below)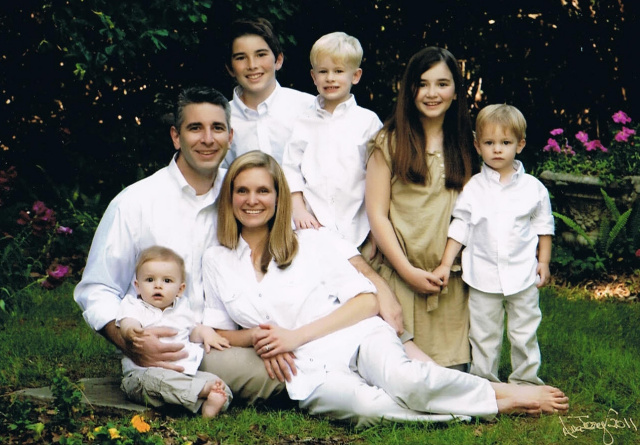 The newest addition to the Bond Family, Baby Anastasia (held by our dear friend Sister Mariana McGlynn).