| | |
| --- | --- |
| Orig. Price: | $3.99 |
| Sale Price: | $2.49 |
| Availability: | This product is back-ordered; it is unavailable for ordering at this time please come back or continue shopping. |
| Prod. Code: | STX-MDF-5 |
5 STIX PER PACKAGE - SAVE ALMOST 40%
6.5" long -
Our Northwestern Meadowfoam Honey is produced in Central Oregon throughout foamy blanketed fields of this tiny white and yellow flower. Meadowfoam is prized by honey enthusiasts, chefs, brewers, meaders and more for its' radically unique flavor complexity. Sporting a serious 'toasted marshmallow' flavor up front and finishing with a mellow vanilla dissolving on your tongue.
Honey Stix are 100% natural, Grade A honey, packed in biodegradable straws. To open them, just bite or pinch the seal at one end, and then just squeeze the honey into your mouth.
Honey straws are a great energy boost and can be used in coffee, tea, smoothies, or any time you need a bit of honey. Simply clip off one end of the straw and you can squeeze out your honey!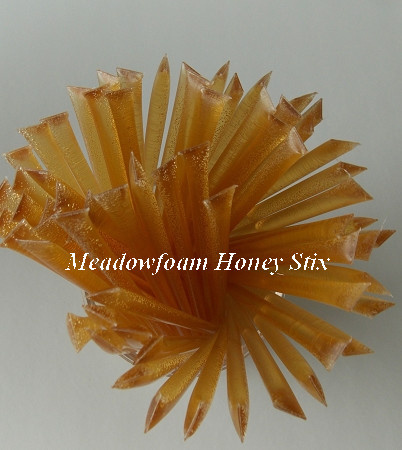 DO NOT FEED HONEY TO INFANTS
Thanks again for your interest in our Honey and related products.
Your purchases help support Catholic Education!
Enjoy our delicious honey, and remember...BeeHoly!